Courtney Trouble
(gender: non-binary femme, they/she)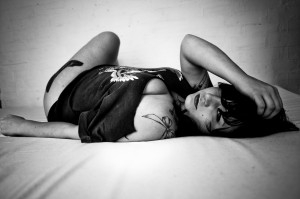 "Courtney invokes that '70s spirit of rebellious adult moviemaking while also being ahead of the trends when it comes to sexuality in art."

– AVN Magazine
"1/2/2019… I could point to some of my sex work and say, "that's not exactly a part of my Art Practice" but how can I deny that it all takes place in the same realm. Everything released under "Courtney Trouble" I would include in my formal "art practice" in some way. Except for the things I do that feel like they're part of my survival mechanisms – there's a cam girl and porn clip life I lead that I wouldn't consider part of my "art practise" but it does pay for it, and inform it. So how is that not an art in my craft?"
Courtney started NoFauxxx.Com as a 19 year old photographer and web designer, with the purpose of creating an indie porn site that was authentic, empowering, and all-inclusive. She wanted the project to address some stereotypes in the adult industry and act as a tool for ladies, queers, and artists, to explore the erotic and sexual side of creativity. She soon found herself as one of the founders of the queer porn movement, setting the stage for all that was to come. TROUBLEfilms was officially established in 2011 after ten years of foundational sex work and training and exploration in film and fine art.
While she easily had a hand in coining the term "Queer Porn," she's inspired by films that were queer long before the word came along, such as "Full Load" by defunct early 00's queer porn site ssspread.com. She's also heavily inspired by classic and mainstream porn (particularly Behind The Green Door, Cafe Flesh, The Devil in Miss Jones and Deep Throat, all "covered" in Trouble's film Nostalgia) as her real life experiences, which included being a former Lusty Lady dancer and madame, working for lesbian porn mag On Our Backs, fighting for marriage rights in California in the late 00's, collaborating with other queer porn masters Shine Louise Houston and Jiz Lee in San Francisco in the early 10's, and a long stint as a phone sex operator and sex worker ranging from 1998-present, "taking on other people's amazing fantasies for a living."
"Make no doubt about it, my queer porn is partially a release for the energy I build up doing sex work for male clients. When I started taking naked photos I was hoping to attract an alternative or queer audience. I was doing this while or in-between taking phone calls as "Ashley," my co-ed college girl alterego. Ashley is straight, sporty, fit, and a good Christian. I have various weapons tattooed on my body and I love eating pussy and listening to these 2 specific homocore rock bands that definitely worship the devil at least part-time. I needed an outlet."
Now, Courtney Trouble runs TROUBLEfilms full-time while exploring art opportunities and yes, still taking care of her client's fantasies. "Despite graduate school, despite the awards and all these years of experience, I still want to do the work that started me down this path. Instead of phone sex I do texting, messaging, and cam shows in exchange for financial tributes, gifts, and other kinds of support. Being a sex worker still informs their daily work.
"Being on both ends of the camera is important to me. It teaches me how to properly show respect to performers, as well as the basics of having performative sex on camera, which come in handy as a director."
---
Testimonials
Written By others, Or Myself.
---
"fabulously fierce femme queer pornographer"


J.D. Bauchery, Hot Movies For Her
"She's the final word when it comes to smut with attitude, character, and soul. Not only is No Fauxxx the oldest running queer porn site on the Internet, it's also the only spot that mixes alt, gay, lesbian, straight, trans, kink, and BBW content. It's sexy, artsy, entertaining, all-inclusive, and totally DIY."


SF Bay Guardian, 2009
"I'm as bewitched by her sorta rockabilly look, curvy body, and gorgeous eyes as I am by her towering reputation as a creator of filthy indie pr0n."

Thomas Roche, AltPorn.Net
"If the future is like this, the future can't come soon enough."


-Lux Alptraum, Fleshbot
"Courtney Trouble has introduced and highlighted a unique and popular genre with one of the best and brightest indie studios dedicated to showcasing LGBT love and lust."

– Pure Play Media
---